The small American cheesecake goes through a phase of adolescence and rebellion: it multiplies variants, including this one, very sunny.
Yields : 6
Difficulty level : Easy
Prep time : 50 min
Cooking time : 1 hour 20 min
Break : 5 hours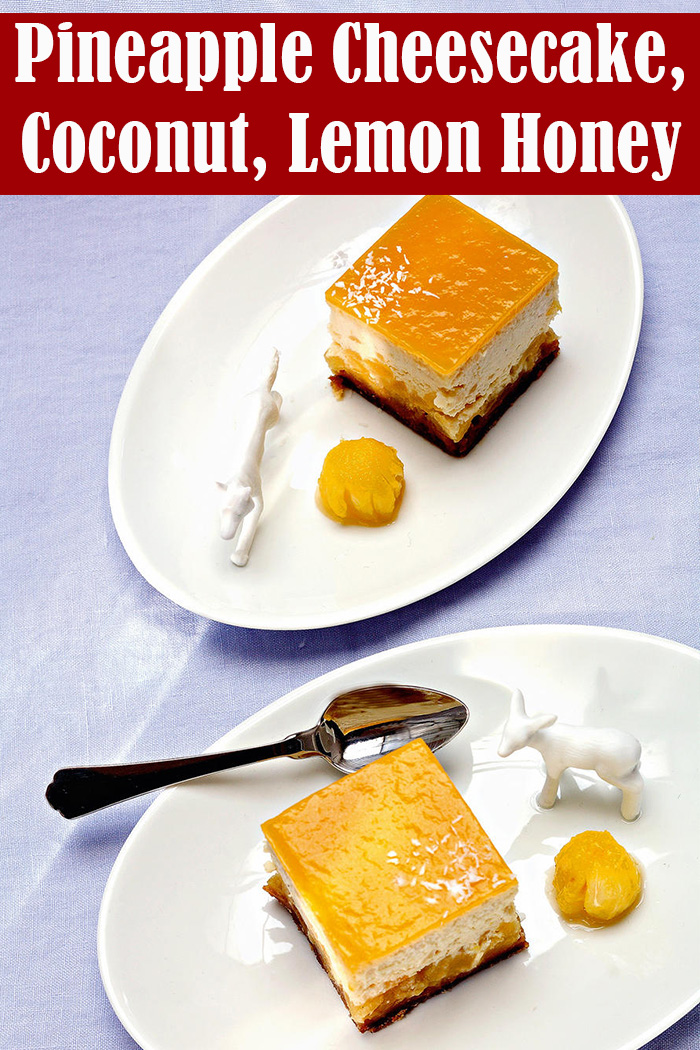 Ingredients
For the biscuit
80 g McVitie's Biscuit (GMS)
80 g Spéculos
60 g Soft butter
For the cream cheese
250 g St. Morêt
100 g Clotted cream
1 Whole egg
1 Egg yolk
130 g White cheese with 20% fat
1/2 c. soup Cornflour
Zest and 1/2 juice Lemon
3 c. soup Pina colada syrup (Monin)
60 g Brown sugar
1 bag vanilla sugar
For the pineapple compote
1 Victoria pineapple
50 g Honey of lemon tree
30 g Butter
For jelly
60 g Fresh or frozen mango
150 g Pineapple
1/2 juice Lime
2 leaves Gelatin
Directions
The biscuit: preheat the oven on th. 5-6 (160 ° C).
In the bowl of a robot, mix the cookies. Pour the resulting powder into a bowl and stir in the butter.
Line the bottom of a silicone cake pan with a removable bottom of baking paper. Pour the biscuit powder and tamp well. Bake and cook for 10 minutes. Take the biscuit out of the oven. Return the thermostat to 3-4 (100 ° C).
The pineapple compote: peel the pineapple taking care to remove all eyes. Detail it in small pieces. Caramelize them in a pan with the butter and honey. Book.
Cream cheese: whip cream, Saint-Môret, caster sugar and vanilla sugar. Stir in whole egg and yolk, zest and juice of half lemon, syrup and cottage cheese. When the cream is smooth, add cornstarch. Whip again.
Divide the pineapple compote over the biscuit dough. Pour the cream. Bake and cook for 1 hour. Let the cheesecake cool down.
Jelly: soak the gelatin in cold water.
Mix the mango and pineapple flesh with the lemon juice. Heat some of this mixture. Melt the wrung gelatin between your hands, then add it to the rest of the mixture. Pour this jelly on the cheesecake. Place 5 h in the refrigerator.
When serving, prune the cheese cake. Cut it into big cubes. Sprinkle with grated coconut.
Serve chilled.
Let us know if you liked this recipe. Try the other recipe categories as well!