When it comes to precise and accurate measurements in the kitchen, having the right tools is essential. That's why our Stainless Steel Measuring Cups and Spoons Set is the perfect addition to every kitchen. Unlike other sets on the market, our set offers a comprehensive collection of 16 pieces, ensuring that you have all the sizes you need to create culinary masterpieces with ease.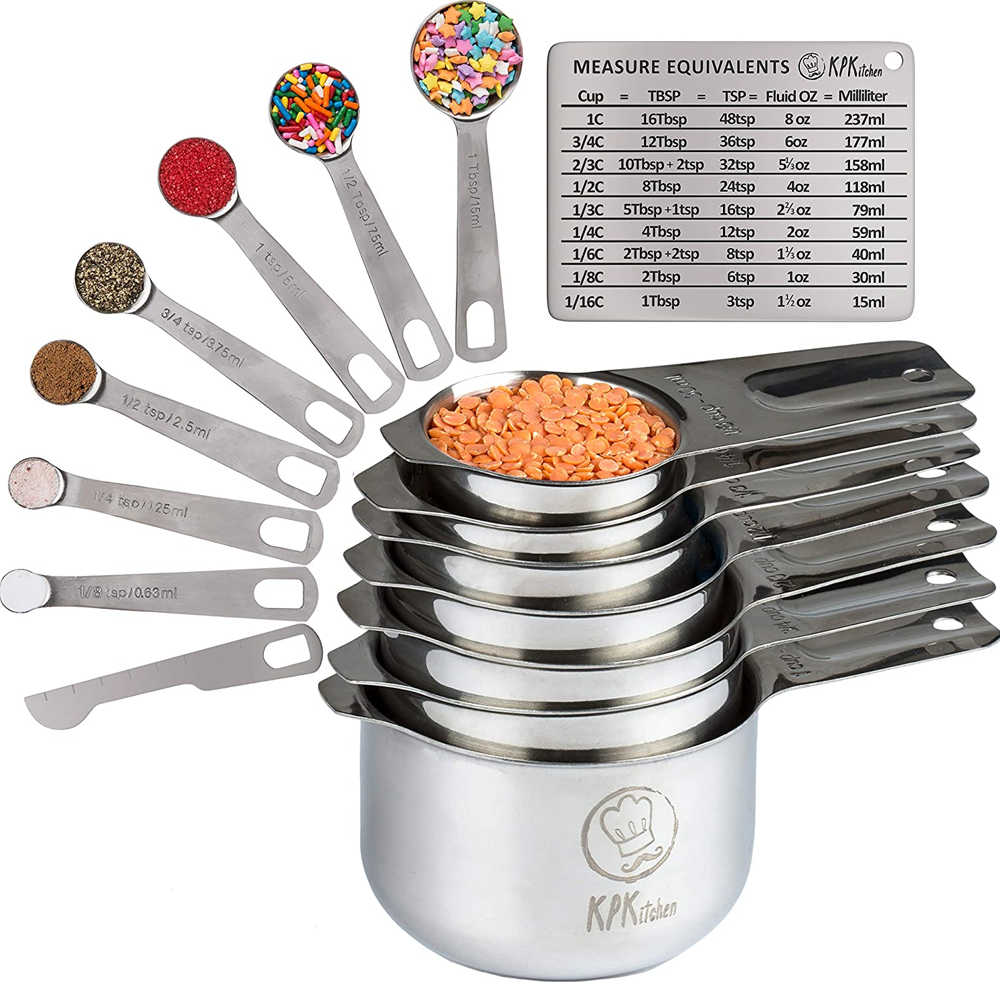 Let's dive into what makes our set truly unique and indispensable.
All Sizes Every Kitchen Needs
Our set goes above and beyond by providing you with seven dry metal measuring cups and seven metal measuring spoons. From 1 cup all the way down to an 8th cup, and from 1 tablespoon to an 8th teaspoon, we've got you covered. We even included the often elusive and rare sizes like 2/3, 3/4, and 1/8 cup, as well as the 1/2 and 3/4 teaspoon. Say goodbye to the frustration of not having the right size when you need it most.
Easy-to-Read Measurements That Last
No more struggling to read faded markings or dealing with worn-off measurements. Our stainless steel measuring cups and spoons have the measurements stamped right into the metal, ensuring that they will never wear off. Additionally, each measuring cup features outside markings for smaller measurements, conveniently visible from the inside. It's time to bid farewell to your old plastic cup and spoon measure set that has seen better days. Our set makes for an excellent gift for any baking enthusiast, with its durable and long-lasting measurements.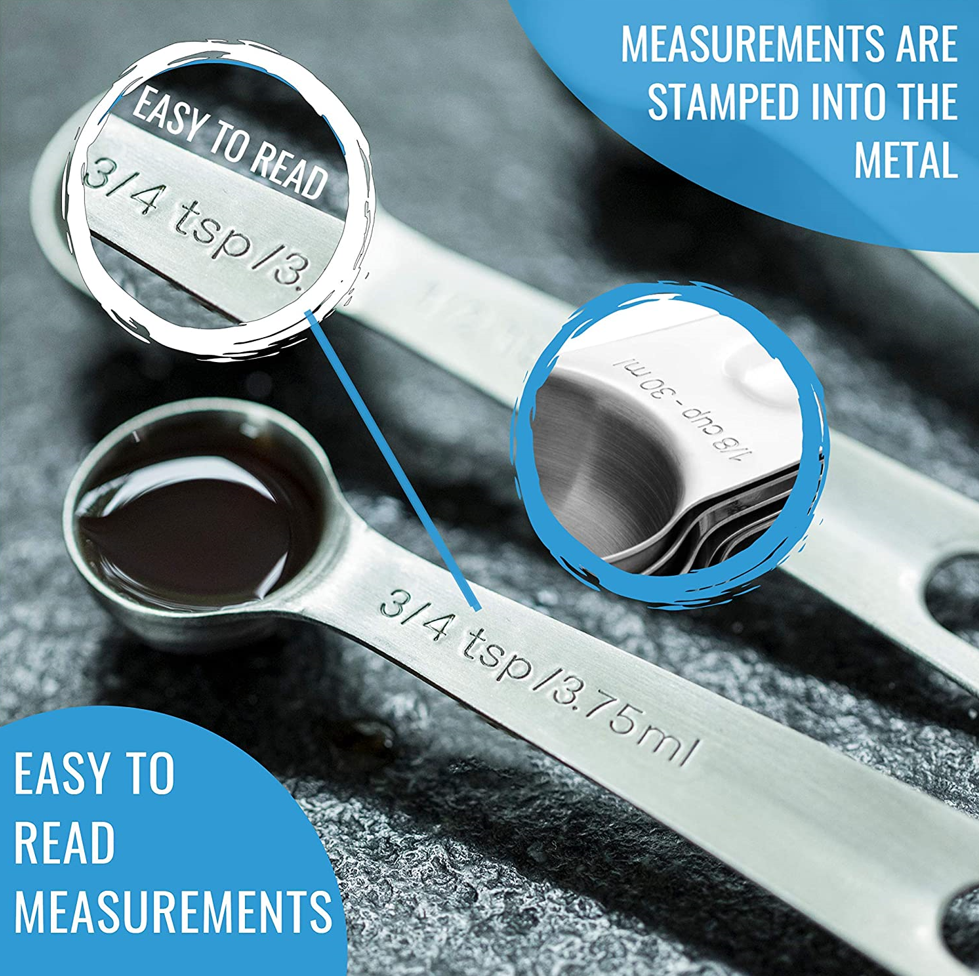 Designed to Last a Lifetime
We understand the importance of durability in kitchen tools, especially ones that see daily use. That's why our metric measuring cups and spoons are made from a single piece of heavy-duty 18/8 (304) stainless steel. This construction ensures that the handles will never bend or break off, providing you with a set that will stand the test of time. Additionally, the high-quality stainless steel makes them a breeze to clean. Simply toss them in the dishwasher, and they'll come out sparkling clean, ready for your next baking adventure.
Includes All Odd Sizes and Bonus Tools
Not only does our set cover all the essential sizes, but we also include the often overlooked odd sizes. With our set, you'll never have to compromise on precision. To further enhance your baking experience, we've added a magnetic conversion chart and a leveler spoon as a bonus. The magnetic conversion chart can be conveniently stuck to your fridge, ensuring quick and easy access to essential conversions. The leveler spoon guarantees perfect portioning, taking the guesswork out of measuring ingredients.
Backed by a 3-Year Warranty
We have full confidence in the quality and craftsmanship of our stainless steel measuring cups and spoons set. That's why we offer a 3-year warranty, providing you with peace of mind and assurance that your investment is protected. Whether you're attending a wedding, a wedding shower, housewarming party, or simply looking to upgrade your own kitchen, our set makes for an ideal gift choice.
What You Get
Our comprehensive set includes:
Seven Measuring Cups: 1 cup, 3/4 cup, 2/3 cup, 1/2 cup, 1/3 cup, 1/4 cup, 1/8 cup
Seven Measuring Spoons: 1 Tbsp, 1/2 Tbsp, 1 tsp, 3/4 tsp, 1/2 tsp, 1/4 tsp, 1/8 tsp
2 D-rings for easy storage
1 Magnetic Conversion Chart
1 Leveler Spoon

In conclusion, the Most Complete Set of measuring cups and spoons is an indispensable tool for any aspiring chef or seasoned home cook. With its comprehensive range of sizes, durable construction, easy-to-read measurements, and thoughtful extras like the magnetic conversion chart and leveler spoon, this set is the perfect gift for yourself or any culinary enthusiast. Elevate your kitchen experience and unlock the potential of your recipes with the Most Complete Set today!