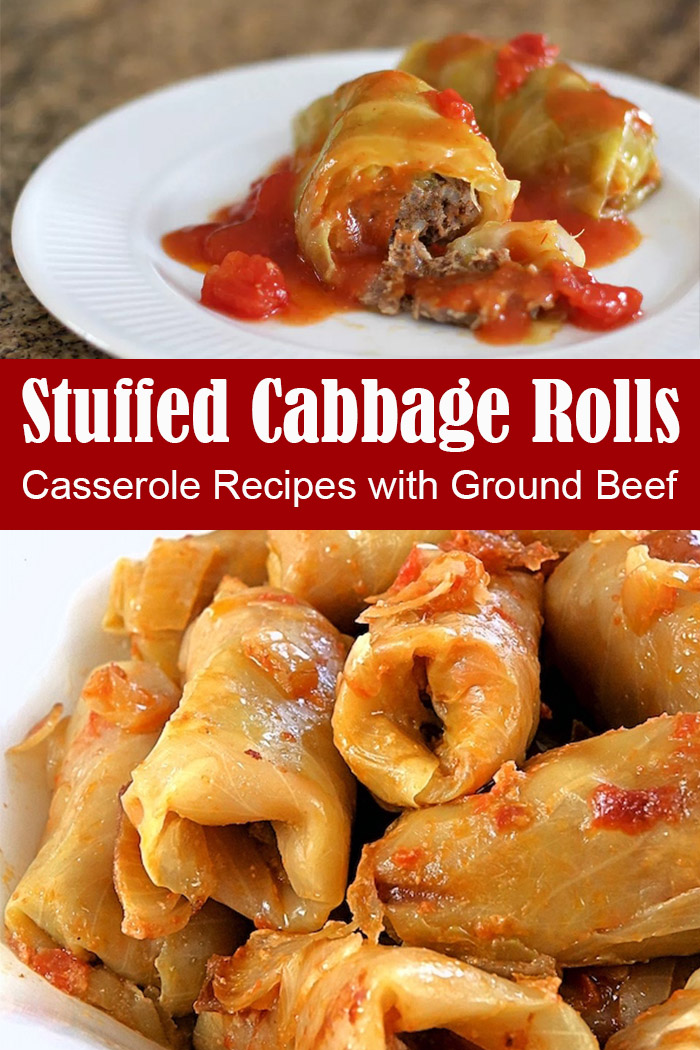 Baked Stuffed Cabbage Rolls – Casserole Recipes with Ground Beef is a classic recipe, so delicious nad simple to make. This recipe filled with ground beef, rice, and onion makes a delicious filling for the partially cooked cabbage leaves.
Total : 100 mins
Prep : 25 mins
Cook : 75 mins
Yield : 6 servings
Ingredients
Filling
1 pound lean ground beef
3/4 cup cooked rice
1/2 cup onion (finely chopped)
1 large egg
1 1/2 teaspoons sweet paprika
1 1/2 teaspoons salt
1 teaspoon pepper
1/4 cup milk
Sauce
1 (8-ounce) can tomato sauce
1 (14.5-ounce) can diced tomatoes (undrained)
3 tablespoons granulated sugar
2 tablespoons apple cider vinegar
1/2 cup water (plus 3 tablespoons for thickening the sauce)
2 tablespoons cornstarch
Tip
If you don't have time to freeze the cabbage, place the whole head—cored or not—in a microwave-safe dish with a small amount of water and microwave it on full power for about 10 to 15 minutes. The leaves should peel off nicely.
Nutritional Guidelines

(per serving)

320
Calories
10g
Fat
32g
Carbs
27g
Protein
You can try other delicious casserole recipe Potluck Taco Casserole.
If you like the recipe, please share it.