Here is a recipe that you absolutely must have, Copycat Morton's Steakhouse Creamed Spinach! This creamed spinach is one of my all-time favorite sides because it's rich, creamy, and so easy to make! It's is a decadent side ready in minutes, with fresh spinach, butter, garlic, and three cheeses.
This indulgent accompaniment tastes just like the creamed spinach you can get at Morton's and is the perfect recipe for your holiday table! This special Side Dish is perfect for a special occasion meal like Christmas, Easter, or even a romantic date night at home.
Yield: 8 Servings
Copycat Morton's Steakhouse Creamed Spinach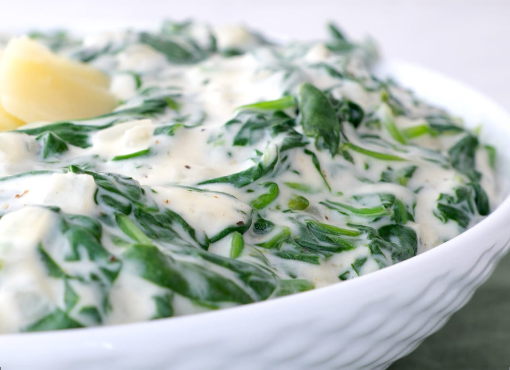 Ingredients
4 tablespoons unsalted butter
1 medium yellow onion , minced
3 cloves garlic , minced
4 teaspoons Kosher salt , divided
1 teaspoon coarse ground black pepper
1/2 teaspoon nutmeg , freshly grated
1/4 cup flour
3 1/2 cups half-and-half
2 1/4 pounds fresh leaf spinach , or one pound frozen
1 cup mozzarella cheese
4 ounces cream cheese
1/2 cup Parmesan cheese , grated
Instructions

Let us know if you liked this recipe. Try the other recipe categories as well!